Now and then on our
lingerie
page I mention how original Fredericks of Hollywood's plus size lingerie is. In recent months I see they have put a link to their Plus size section at their top horizontal menu bar! Sometimes it goes into hiding, it seems.
Now they have many new colors, and a few new styles of their popular
Dream plus size corsets
, two are among the limited edition ones I will show further down. They also have other new corset styles in either
sizes up to 44 or Extra Large
!
These two corsets are similar to Fredericks'
Exxtreme Cleavage full figure bras
and come in sizes up to
extra large
! Like the bra, they both have removable pads.
This is their gold and mesh, corset for the summer of 2011. It has a side hook and eye closure.
This one was in plus size corsets.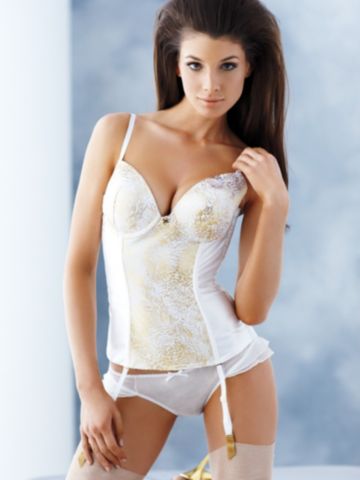 This flocked tiny dot, lace trimmed corset is another of these styles. This one has a back hook and eye closure. I found this one in Spring Corsets, but it is not in the plus size corset section. It pays to look around apparently.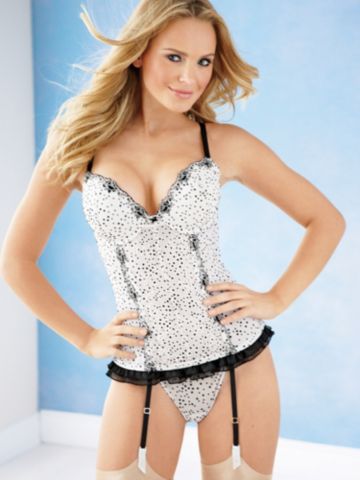 Both have adjustable straps and like, apparently, all Fredericks Corsets, they come with detachable adjustable garters and come with matching G-strings.
This swirl print corset is one of the new styles of the above-mentioned Dream Corsets. It is one of the limited edition styles and comes in
sizes up to 44
.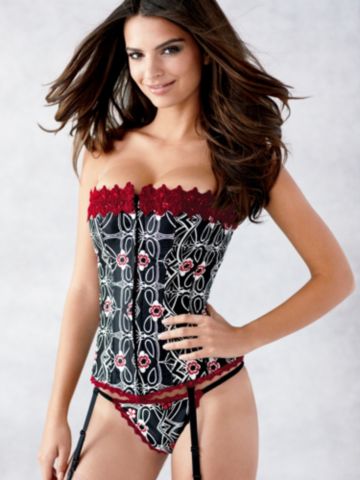 Here is the new Halter Dream corset style in it's limited print version.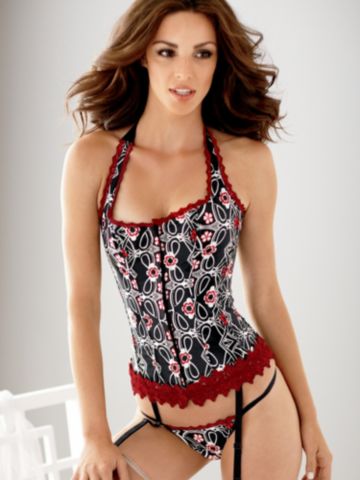 Fredericks still has their popular Renaissance
plus size corsets
and Lace Inset
plus size bridal corsets
, as well as other styles.
New, Old, standard or Limited Edition, All of Fredericks' full figure corsets are on sale with
prices starting at $48
!