I seldom do personal review posts because I rarely buy things that are not books. That said, when you need large cup size bras, you make room in your budget for them.
I had been wearing Elomi full cup and plunge bras for quite some time, but wanted to try balcony bras. That is why I finally started trying Curvy Kate balcony bras, with great success!
This is my latest and possible favorite…
Curvy Kate's Ellace Bras
My choice of bras is limited owing to needing cups sizes around JJ. This seems to vary a bit on both brand and cut. In the case of this particular
Curvy Kate bra
I am so glad that it comes in up to K cup sizes, because the JJ fits in such a way to be not quite perfectly smooth at the seams.
Even so, I find I am wearing this one almost every other day.
I love this bra because of:
The lift
Projection
The Fabric Is So Smooth and Soft!
This bra offers excellent support yet all of its cups, (and these are 3 part underwire cups), are made of such a soft fabric, I have to wonder why all full figure bras are not.
I also wonder if Curvy Kate will make more in this incredible fabric.
These beautiful bras are
available in sizes 28 to 40D to K, 42 and 44D to G
, in this latte color below and black with champagne trim too at Her Room.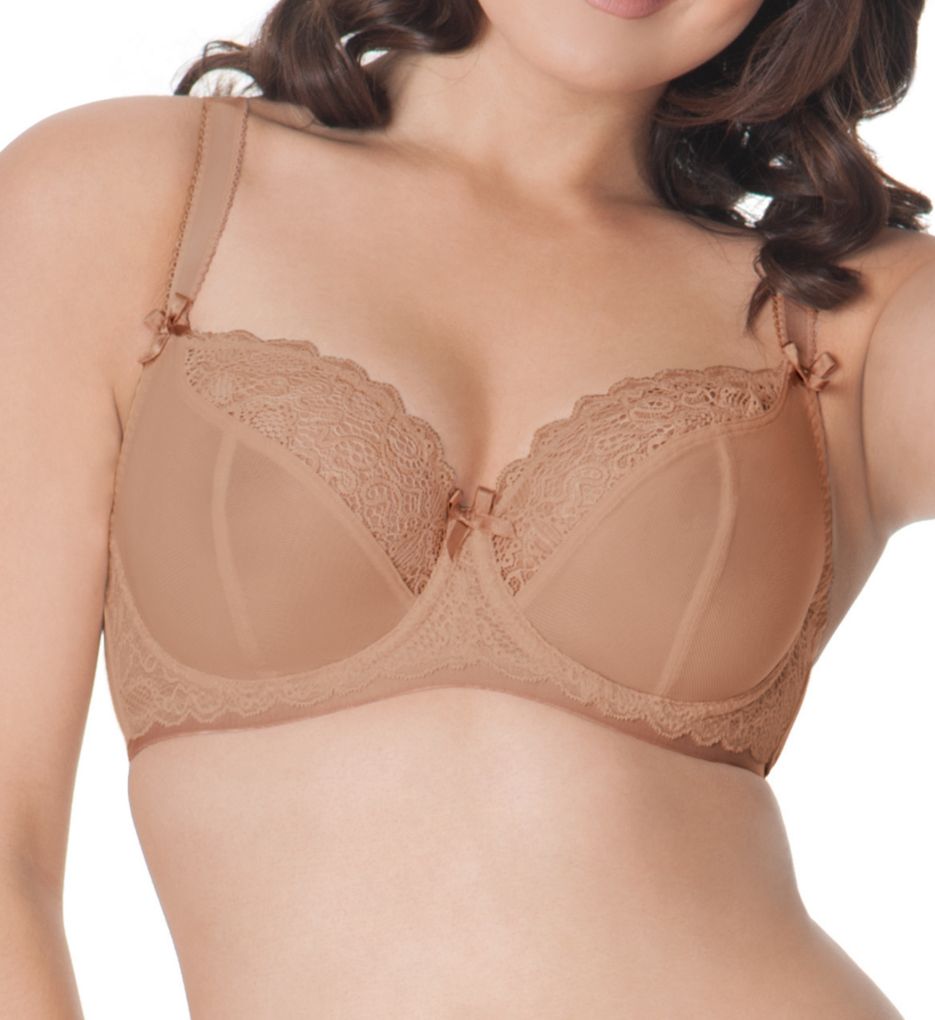 Curvy Kate CK4401 Ellace Balcony Bra (Latt...
Curvy Kate Ellace Balcony Bra (CK4401). This sophisticated; sheer lace underwire bra fe...
[More]
Price: $66.00
If you are familiar with Curvy Kate Bras:
I found their
Bardot Balcony Bras
fit me perfect in the JJ cup size. In this style in the JJ is a bit too close, but only if you were looking for a flaw. I doubt anyone is staring at me that closely…
Their
Gia balcony bras
with K cups was too large…
I hope to try the K cup size in this style, but that will have to wait for my budget to get up to that task…
A Brazilian panty is available in both colors there in sizes S to 2XL. Both colors are on sale now for $24.95 rather than their previous $35.
I am also hoping they make bikini panties for these bras. I have never had a matching bra and panty set, but owing to the incredible soft fabric, would love to with these. I doubt Brazilian panties would work for me though.
Currently
Her Room has its Free $20 Gift Certificate with purchases of $100+ deal on
! I have enjoyed this in the past. This deal expires at the end of 12/22/16. You would have the use the gift certificate by 1/19/17.
We can enjoy 4% Cash back shopping Her Room through
We can get 5% Cash Back shopping eBay through Ebates.
The Curvy Kate text links in this post go to eBay stores, set to New With Tag styles at Buy it Now, rather than Bid prices.
Enjoy!
12/17/16
Anne